Lakewood Reserve at Knox Park

Knox Park Primary School is fortunate to have a nature reserve and waterway adjoining the school grounds. Our school, part of the Schools for a Sustainable Future network, has been enthusiastic in working to help restore the local wetlands.

Madeline from Preps in busy planting in a newly established garden.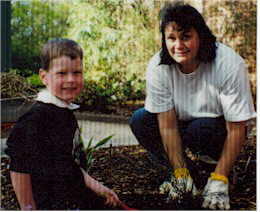 Daniel is helped by a mum to plant his new tree.
The Lakewood Nature Reserve has proved to be a natural extension of our classrooms providing hands on experience for our studies of the environment. The pupils at Knox Park P.S. have been active in the Lakewood area since its inception.
Initially the focus of our efforts was directed to the revegetation of the wetlands and the surrounding area. In 1999 the children have begun monitoring the quality of water feeding into the lake. This program, which has been operated under the auspices of Steam Watch, has been assisted by Knox City Council, who have provided the Meck Kit used to conduct a variety of water quality tests.
The co-ordinators of Dandenong Streamwatch, Sheree Marris and Peter Malcolm held a training session which focussed on all aspects of Stream Watch as well as providing hands on training in the use of testing kits.
Traditionally the school has taken part in Snapshot which monitors the turbidity of the water. However we are also undertaking a wider investigation into the ongoing quality of the water. A key component involves recording and removing rubbish from the waterway as an adjunct to the Drains to the Bay program.
There are quite significant and tangible rewards resulting from the schools direct involvement with Lakewood Reserve. The less obvious reward for the school (but certainly the environment!) is to be found in the number of water birds that regularly graze on the school grounds and rest in the surrounding trees.
The entire school community enjoys its part in the ongoing management of this most valuable natural resource, which has been adopted as part of our "global classroom".
Don Dart
Assistant Principal
Knox Park P.S.
Phone: (03) 9763 6533