This is the second year of operation of The Ringwood North Primary School's Environmental Club. We have a member base of around 30 interested and enthusiastic children. We meet each second Monday to discuss what we have achieved and what we plan to do in the coming weeks. On Wednesday at lunchtimes children learn how to take care of native plants and learn about weeds.
Loughie's Bushland is a nearby native reserve and Ringwood North has been honoured to assist Carol Clarke (coordinator of Loughie's Bushland) and The Friend's of Loughies Bushland in replanting and maintaining an important area of native bushland.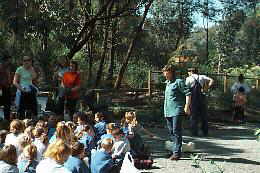 On Thursday the 2nd of September 1999 the Environmental Club and interested others went to Loughies Bushland, for the second time.
The children planted approximately 300 trees and plants, big and small and learnt a lot about them as they were gently placed in their new home.
We had many helpful parents who dug holes before we all arrived, and teachers Dianne Riepsamen and Michael Green attended to assist too.
It was a very successful day and the weather could not have been more perfect.
For more information please contact
Lee Scott, Tayla Jarvis and Brooke Keyser
President & Vice Presidents of the Environmental club
And
Janet Coker
Coordinator of The RNPS Environmental Club
email: coker.janet.j@edumail.vic.gov.au