Each year Schools for a Sustainable Future holds a Presentation Day. Its part of the package we offer our school and community participants. Our day is intended to
Apart from recognising the work of schools and sponsors we also invite quality speakers whose addresses will be informative and inspiring to the participants.

Footscray City College stand. Peter Hardy (3rd from right) was responsible for organizing an outstanding school project.
The 1998 Presentation Day
Our 1998 Presentation Day was a great success. Over 75 people from schools, Councils and business and environmental organisations attended the Mt. Waverely Community Centre to see an outstanding range of school environmental projects.

Alan Pearse (Centre) from Sustainable Solutions demonstrating the Australian Home Greenhouse Program.
Twelve schools set up "show and tell" stalls with five taking part in presentations to the audience. All schools and organisations involved with SFSF were presented with certificates of participation or excellence in recognition of their involvement with Schools for a Sustainable Future.

Ringwood Heights P.S Presentation

Norwood Secondary College Students at their demonstration table.
The Rev. Tim Costello was our Key Note Speaker in 1998. His speech on "Schools:- Sustainability or Exhaustion" addressed the question of how schools were attempting to educate children in a far wider range of skills and issues than has ever been attempted. Are we now spreading ourselves too thin? What is the impact of this pressure on our children and the teachers in charge?
While Tim's presentation did not offer simple answers it certainly raised the question of what should our educational priorities be and how do we ensure we do not overtax our systems.
Other major speakers included Helen Lewis from EcoRecycle who discussed the products currently produced from recycled materials and thus "closing the loop" on the recycling process.

Helen Lewis from EcoRecycle shows off a range of products made from recycled products.
One of EcoRecycles critical roles in its Waste Wise program is assisting businesses to develop outstanding new products from recycled materials. Helen's presentation demonstrated the successes achieved in creating products. We saw everything from "leaky hoses" for irrigation to high quality furniture from recycled toner cartridges.
Kellee Nolan Youth Officer with Australian Conservation Foundation outlined the role young people can play in helping to preserve our environment. The ACF has an excellent program for school student.
Finally the day featured a range of presentations from Primary and Secondary schools which had developed outstanding projects in their communities.
These demonstrated the hands on activities that showed the commitment of schools to being leaders in local sustainability.
1998 Sponsors
Thank you to the supporters of our 1998 Presentation Day:
1999 Presentation Day
Our Day in 1999 will be an outstanding event. Again we are looking forward to a range of presentations from a number of schools with excellent projects.
This years Key Note Speaker will be Helen Tyass Tungnall whose Learnscape project and speech will be of keen interest to schools interested in implementing effective whole school environmental projects.
It takes organisation, vision and an integrated approach to help make a school an outstanding learning environment. This is exactly what Learnscape offers.
Another key speaker will be Steve Malcolm, EcoRecycle Education Program Manager. Steve will be examining how the goals of Waste Wise program can be integrated into a broader environmental theme that recognises how our schools can play their part in preserving our biodiversity.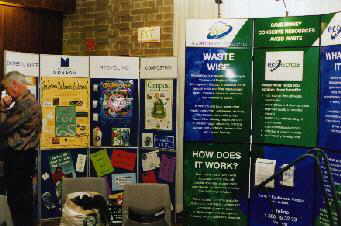 Ecorecycle Waste Wise program and Monash Council's Waste Education Programs at 1998 Presentation Day.
The day will offer excellent opportunities for schools, parents, council education officers and businesses to consider their roles in educating or children for a sustainable future. We look forward to seeing your there.
1999 Sponsors
SFSF warmly thanks to the following organisations that are currently supporting the 1999 Presentation Day.