Monash Council Waste & Recycling Manager Joe Lunardello,
Mayor Gill Claire & Counillor Peter Vlahos
at the SFSF Profile Afternoon.
Monash Council Promotion Day.
On August 28th 1998 SFSF held a special promotion afternoon at the Black Flats Community Centre in Glen Waverley. It was an excellent event specifically supported by the City of Monash to recognise the work of schools in the Monash region and the Councils commitment to encouraging environmental projects and partnerships in the school community.

Guests at Profile Day

Stan Vermeerin Northern Region Waste Education Officer
with Phil Staggard
The day featured the work of 5 local schools with particularly outstanding displays from Glendal P.S. and Syndal Sth P.S.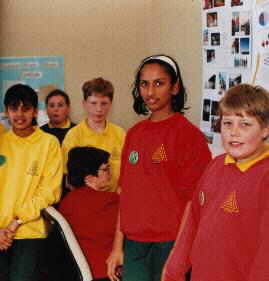 Glendal P.S students
Mayor Gill Claire outlined the commitments Monash council had to supporting recycling, community and school education projects and preservation and restoration of local indigenous environment.
The day was also the opportunity to draw the winners of special prizes offered by SFSF and Monash Council.
SFSF had 2 monster CERES worm bins donated respectively by Monash Council and CERES community farm.
There were also 6 "Home Greenhouse Saver" education packages donated by Sustainable Solutions.
Winners of the Monster Worm farms were:
Many thanks to schools and teachers who participated in the day and Monash Council which has supported schools and SFSF over the past three years.