Clayton Nth P.S with Steve Ramsay has been one of Monash area leaders in developing whole school recycling practices and establishing native gardens. In 1999 Steve is steadily developing a school wetlands project. A really inspiring project.

(Left) Principal of Syndal Sth P.S Mr. Arnold Van De Ver
(Right) Mr. Steven Ramsay from Clayton Nth P.S
Oakleigh Sth P.S.
Oakleigh Sth P.S. with Julie Kearney has integrated recycling into the school program for many years.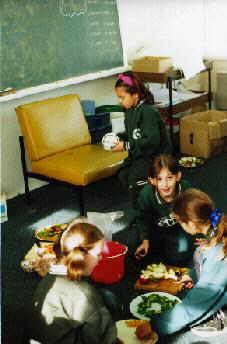 Grade three students preparing a shared healthy rubbish free lunch.
Next year the school will be looking at expanding its environmental activities at their new site.
Essex Heights P.S.
Essex Heights P.S. with Anne Sherry and Deborah Roberts has also been highly effective in establishing school wide recycling of paper and organic waste . Essex Heights has over 700 pupils. The logistics of effectively organising the worm recycling program were outstanding.
Knox Park P.S.
Knox Park P.S. with Don Dart and Suan Goodall has a long tradition of environmental activity.

Lakewood Reserve at Knox Park
Apart from total school recycling projects students are continuosly involved in developing local wetlands and environment habitats.
Monash P.S.
Monash P.S with Sue Sauders also has excellent whole school recycling programs . In 1999 they have been developing food gardens to expand childrens interests along with their high quality worm farm.
Oakleigh P.S.
Oakleigh P.S. with Bev Clinton have also been environmental legends over many years.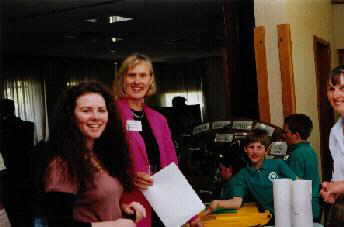 Caroline Smith (Centre) Environmental Education lecturer at Australian Catholic University and student
Butterfly gardens, whole school recycling programs, and now in 1999 a water tank installed as part of a Waverley Industries/ARI sponsored project. Like all effective programs Oakleigh just keeps on keeping on.
Mt Waverley P.S.
Mt Waverley P.S. Alma Brand has seen the school become enthusiastic recyclers of paper, organic waste and recyclables.

Mount Waverley P.S. display at SFSF Presentation Day 1999
In 1999 the school has set up a shade house to grow trees for local planting. One of the highlights was the work of Jonathan Auditore from the Australian Catholic University in helping finish the building.